To celebrate our 10th anniversary, we the "Der Autobahn Scrapers" organized the Das Drag Day in September 2003. Due to large succes of our 10th anniversary Event, we just could not wait for our 20th anniversary to reorganize such an Drag Day. The Bitburg 1/4 mile track just screamed for action again! Therefore a new date for Das Drag Day was set for September 21th & 22st at the Bitburg Motorpark! The Bitburg Motorpark is located near the Luxemburgisch/Belgium/German Border.
DDD, The Event for all Old-School and Cal-Look Fans!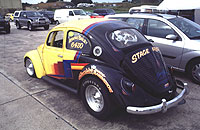 Bitburg is a former US Airbase, which for the last couple of years now, is mainly used for Drag Racing purposes by the GI's. Following an initiative by "1on1-motorsports.de", the Bitburg Motorpark includes a 1/4 mile Track equiped with a real Drag Racing timing Set-up. After each Run you will receive a complete Time slip including elapsed times (60 feet, 1/8 mile, 1/4 mile) and Top Speed. In order to provide a great Weekend, the "Der Autobahn Scrapers" joined in with "1on1-motorsports.de" to organize the Das Drag Days. Therefore the Racetrack is not only open to the Aircooled VW's but also for local GI's and their Street machines. During the 2 days of the Event there will only be Drag Racing on the program! The Das Drag Days are an International Event organized for the serious Cal-Look and Old-School Fans!

This year again, let's meet for the DDDay #10 on 21th & 22th September 2013 at the Bitburg Motorpark.